Happy Halloween at Kon Tiki!
Immerse yourself in a bewitching world and let yourself be seduced by darkness during our Halloween festival from 26 to 28 October 2023! This year, Kon Tiki will be transformed into a gloomy kingdom where Disney villains will take control to bring you unforgettable thrills and chills.
Close
Culture and traditions
Find the essentials of your holiday on our Riviera Villages mobile application
Entertainment,cultural and sporting events of St. Tropez. The French Riviera is an ideal destination for the whole family and no shortage of activities to share with your children!
La fête du Coq - Cogolin
Legend says that the name "Cogolin" comes from another saga tied to Saint Tropez. Saint-Torpès was decapitated and his body was put on a small boat with a dog and a rooster.
The craft docked in Saint Tropez (where the name comes from) and the rooster flew away and landed in a linen field a few kilometres from there. Thus the name "Coq au lin" ("rooster in linen") was born - which became "Cogolin." Since then, the rooster has been the symbol of the city.
The traditional fête du Coq (rooster festival) takes place every year beginning in September.
La bravade - Saint Tropez
Annually for more than 450 years, the city of Saint Tropez witnesses its armed inhabitants putting on soldier and sailor uniforms and making their guns blare in the Saint's honour, just as they did in the era when they went to battle.
Processions take place in the village during "la bravade," connecting the village's tradition and culture.
It takes place every year in May.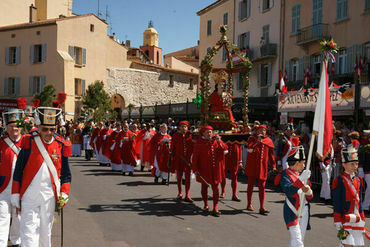 A modern-day treasure hunt
Fréjus gives you the opportunity for an uncommon method of discovering its monuments and city through a scavenger hunt. Mysteries and puzzles allow you a unique way to visit places steeped in history.
The starting point is at the office of tourism, where you'll get a map of the city and everything you'll need to complete an exciting course laced with intriguing mysteries. 
An application to make your life easier
Our mobile application offers a wealth of information and activity ideas to help you plan and enjoy your stay.